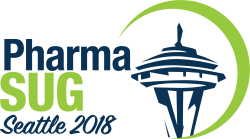 PharmaSUG 2018 will be held April 29 - May 2 at the Westin Hotel in Seattle, Washington. Wright Avenue Founder and CEO, Bill Donovan, will be in attendance and is eager to connect with you at the event. Programmers, Statisticians, Data Managers and others in the pharmaceutical and biotechnology, healthcare and related industries, do not miss this event informative filled with paper presentations, posters, hands-on training workshops and more. In preparation for the event, click here to download Wright Avenue's Director of Statistical      Programmer, Mike Molter's paper presentation from PharmaSUG 2017, Controlled 
                                                                    Terminology without Excel. See you in Seattle!
                                                                         To register or learn more, visit www.pharmasug.org.
                                                                         To schedule a meeting with Bill, email us at careers@wrightave.com.