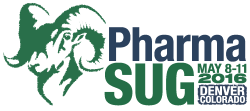 PharmaSUG 2016 will be held May 8th - 11th at the Hyatt Regency Denver at Colorado Convention Center. Wright Avenue Founder and CEO Bill Donovan will be in attendance and eager to connect with you at the event. Programmers, Statisticians, Data Managers and others in the pharmaceutical, biotechnology, healthcare and related industries, do not miss this two and a half day event filled with paper presentations, posters, hands-on training workshops and more. In preparation for the event, take a look at the below PharmaSUG award-winning paper authored by Bill Donovan to gain a new perspective on the progression of your work like or chosen profession.  To schedule a meeting with Bill, email us at careers@wrightave.com. See you in Denver!
Click here to download A CareerView Mirror: Another Perspective on Your Work and Career Planning by Bill Donovan.

For more information visit www.pharmasug.org.